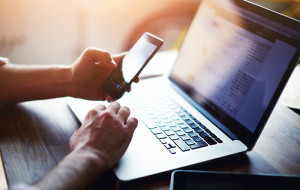 Building Your Plan for BYOD!
As the line between working in-office and working from home becomes more and more blurred, a new trend in employee technology has begun to emerge – BYOD, or bring your own device. Many companies are offering their employees the option to bring their own devices into the office environment as it can improve both employee satisfaction and office productivity.  But CIOs still must consider three different basic set ups/options before taking the plunge:
Bring Your Own Device (BYOD) – In this set up an employee has complete control over choosing and supporting the device they use at work since it is fully owned by the employee. This is a very popular method with smaller companies or those who utilize independent contractors.
Choose Your Own Device (CYOD) – In this set up employees are offered a choice of devices that have been approved by the company for their security, reliability, and durability. The approved devices work within the company's IT environment, however the device itself is owned by the employee; either they have paid for it themselves or it was paid for through a company stipend and the employee can keep it for the length of their employment.
Company-issued, Personally-Enabled (COPE) device – Here an employee is supplied a phone or other device, paid for by the company, that they can use for personal activities. The employer can decide how much access and freedom employees get when using these devices.  This is the closest option to the traditional Corporate Owned Business Only (COBO) model of old.
While CYOD and COPE are often employed in larger organizations, BYOD is by far the most popular option with SMB's.  There are many benefits to the new BYOD office set up.  When employees are totally familiar and comfortable with their own devices they are likely to be more productive since they do not require any time or training to get up to speed on optimal usage.  Additionally, personal devices, as opposed to business owned, oftentimes are the latest model with all the latest updates and features.  Early adopters love having the latest version of their preferred device and companies can leverage that desire to their advantage.
A further advantage to adopting BYOD is cost savings to the employer.  By having people responsible for part or, in some cases, all of the cost of their mobile devices, businesses can potentially reduce the impact of mobile device costs on their bottom line.
If and when your company adopts a BYOD policy, the best way to ensure that you do not encounter an excessive surge in calls for help to your IT team is to have strong and comprehensive BYOD guidelines in place.  Here at Midwest IT Solutions we have worked hard to research and develop guidelines for our clients to follow. Any policy should encompass seven key areas:
Specify what devices are allowed. You will be getting into the business of saying, yes iPhone, no Android, yes iPad no any other tablet. Once you have decided what devices are allowed it is key to make clear what level of support (if any) you will offer owners of these devices.
Establish strict security protocols for those devices.
Define a clear support policy i.e. what level of IT support will you (the employer) provide?
Decide which Apps will be allowed, which will be banned.
Make clear who owns the apps and data used on the employee's devices.
Be sure that your BYOD policy is aligned and fully integrated with your current Acceptable Use policy.
Be sure to come up with an employee off-boarding plan.
There are many factors to consider before any manager or executive rolls out a new BYOD policy.  A successful BYOD policy can aid in productivity and employee satisfaction, a less detailed BYOD policy can lead to security breaches and numerous IT headaches.
At Midwest IT Solutions we can help you navigate through the complex new world of BYOD.  With Midwest IT Solutions' guidance, you will be able to leverage the wonderful benefits of BYOD without facing the many pitfalls.  Do not try to chart your own course through this exciting world, contact us today!
https://midwestmsp.com/wp-content/uploads/2016/08/byod-300x190.jpg
190
300
Pete Weigel
https://live-midwest.pantheonsite.io/wp-content/uploads/2013/11/Midwest-IT-Solutions1-300x67.png
Pete Weigel
2017-07-21 10:30:16
2017-08-18 17:12:01
Building Your Plan for BYOD!